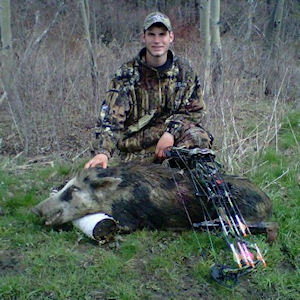 As one of the largest hunting preserves in the East, Tioga Boar Hunting Ranch is not only proud to offer beautiful accommodations at reasonable prices, but also a giant selection of big game for your hunts. When you visit our hunting preserve, you will have the opportunity to hunt some of the most exotic large game in the world, all while surrounded by beautiful and peaceful atmosphere.
Vast Selection of Big Game, Year Round Hunts
Our selection of large game hunts varies by season, but we have several year round hunts you can take advantage of as well. Boar, turkey, bison, goat, and more are among our year round hunts. Our seasonal hunts usually include whitetail, elk, stag and many more. Most hunts are all fully guided and are a couple days in length, providing you with the education and time to have the hunting experience of a lifetime.
Highlights include boar hunting, a year round occurrence here at the Tioga Ranch. We have a variety of different boar hunts available, depending on if you plan to hunt for meat or for a trophy. Our boar hunts usually last 1 – 2 days, and are led by some of our most experienced guides. As a guest, you will find the Tioga Ranch terrain to be an exciting and challenging place to hunt. Keep in mind, you can bring your choice of weapon depending on your own hunting preferences.
Another one of our most popular hunts is the whitetail hunt. Although this is a seasonal hunt, you still have plenty of time from late August through most of December to get your trophy whitetail. These guided whitetail hunts usually last about 1 or 2 days, and prices vary based on sizing. As with all of our hunts, your guide will butcher your meat for you for an additional fee, and if you bring a cooler you are more than welcomed to take it home with you.
The rest of our hunts include:
Discounts for Groups!
If you are interested in any of the hunts listed above, the best thing you can do is to book your stay well in advance. We offer group discounted rates to parties of 6 or more hunters, and prices will vary depending on hunt and the length of your stay.
Great Accommodations
Those who choose to stay in our hunting lodge for a few days while experiencing the hunts at Tioga Ranch will experience a true relaxing and rustic experience. Our lodge is equipped with common areas for our guests to relax and socialize, including a large dining room, living room, and trophy room. We have a chef on staff who prepare fresh game for our guests, and will provide you with three meals a day during your stay.
Between the hunting opportunities of a lifetime, the relaxing stay in our beautiful lodge, and the experience and guidance you will receive, there has never been a better time to visit Tioga Ranch. With hundreds of acres available for hunting, we continue to be the largest hunting preserve in the East. For more information, or to schedule your next hunting experience, contact the Tioga Boar Hunting Ranch today at 570-835-5341.