TIOGA Guided Texas Dall Ram Hunts
The Tioga Ranch offers affordable, fully guided hunting packages for Texas Dall Rams year round, 7 days a week. The Dall Ram is one of the most hunted exotics in the United States. We have hunted Texas Dall Rams for over 40 years at our Pennsylvania hunting ranch, and we'll provide you with a memorable experience.
Hunting Texas Dall Rams Is Fun!
Few things more exciting and fun than stalking a Texas Dall Ram. That said, you'll want to be patient and pick the optimal shot since these creatures have great herding abilities. You can use nearly any type of hunting weapon for your hunt, including but not limited to any caliber hunting rifle, a muzzleloader, shotgun, pistol or bow. Any of these options will work for your hunt depending on your comfort level with each, and our professional guides will put you in proper position for success.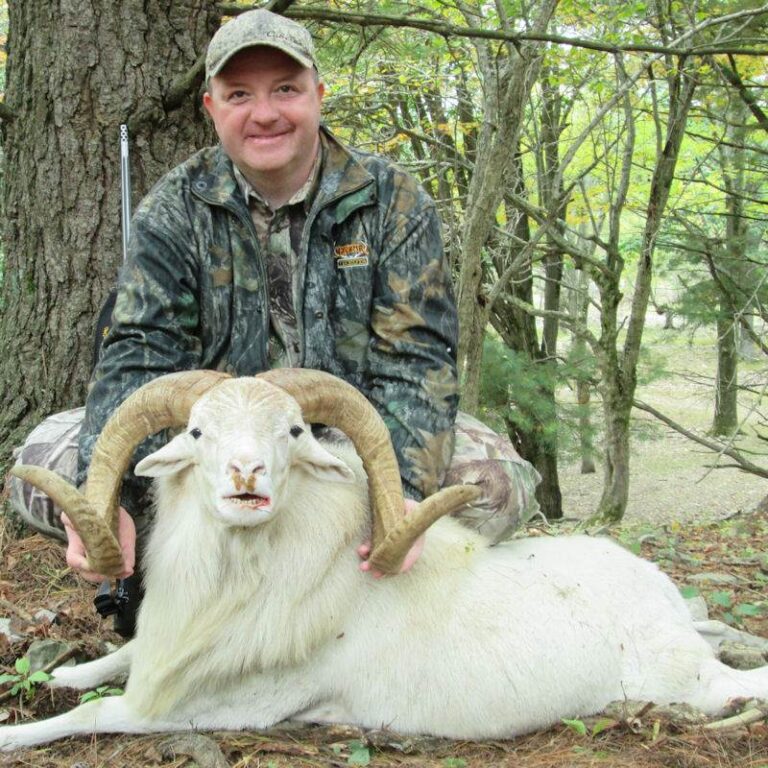 Texas Dall Ram Characteristics
Dall Rams are white and sometimes a golden color with an attractive main down the front of their necks. A mature Dall Ram will weigh as much as 125 lbs. For the most part the horns on a Texas Dall Ram will have a tight curl but sometimes they do flare out. We start hunting our mature rams when their horns reach a 3/4 curl, the majority of our rams we hunt will have a full curl. What's more, we even often hunt rams who have more than a full curl! Ram horns make for a perfect trophy, which is why so many hunters yearn for the opportunity to go Dall ram hunting in Pennsylvania.
Fascinatingly, during mating season, male rams join their female counterparts and embark on a tremendous competition to try to find a match. The competition involves the two rams squaring off in a "duel," where the rams sprint at each other and ram (pun intended) their horns into each other. It's quite a site to see! Most often, the "dating" hierarchy is based on the age and the size of horns, as well as the overall body size of the ram, but the competition can really separate rams on the dating scene.