HUNTS:
Guided Red Stag Hunts in Pennsylvania
TIOGA Guided Red Stag Hunts
Tioga Ranch's red stag hunts are priced according to how old the stag is at the time of killing– for example, if you shoot and kill a two-year-old, it's $4,000. Older stags cost more, such that a five-year-old stag, for example, is $7,000. Hinds (females) are $1,800.
Red stag hunts include one night of lodging as well as meals. Plus, skinning and quartering is included in the quoted price. If you want a second night of lodging and meals, add $120. If you want butchering, vacuum sealing and labeling done, add $300. Note: a 25% deposit is required to reserve your hunt. You can schedule your hunting trip and make arrangements by calling Tioga Ranch at 570-835-5341; it's a good idea to plan your trip months in advance.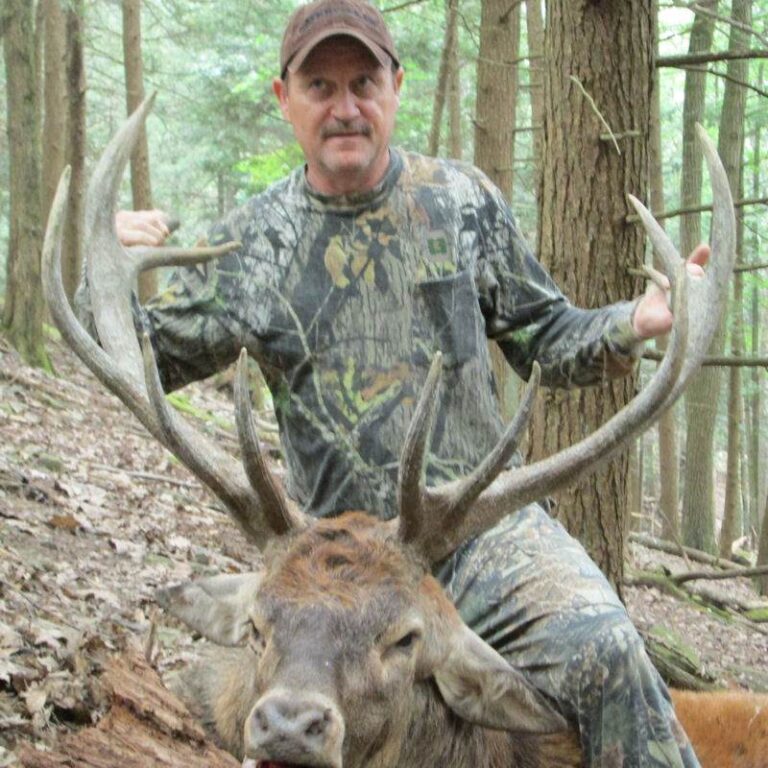 Things to Know About Red Stag Hunts
While deer are ubiquitous around the world, they're usually brown. But what about the more rare red deer? Red stag deer have been around for millions of years, getting their start somewhere in Europe and making their way to Britain over the centuries. Hunters would use them as both a food and clothing source. Meanwhile, their antlers and bones could be made into tools.
Red stag deer have a gorgeous coat that's shaded red. The male's antlers typically have six points, though some can have up to 15 signifying dominance. They generally eat what other deer eat: shrubs, leaves, grasses, etc. Mating season is September through November– a season known as "the rut." Births occur between late May and early June.
Today you can find red stag deer in Britain, as well as Iran, Australia, Argentina, and the USA– including at the Tioga Ranch in Pennsylvania.  At 69 to 98 inches long, weighing 350 to 530 pounds, red stag deer are big– and their antlers make them even bigger. Hunters feel quite accomplished when they shoot and kill a red stag deer.
Red Stag Deer Hunts Are an Unforgettable Experience!
If you've ever hunted elk, then you can apply some of what you know and have experienced to hunting red deer. Red stag are known for their excellent eyesight, hearing and sense of smell. This makes them a challenge to "sneak up on." Also, red deer tend to be found in thicker bush– so if you can assume the higher ground and/or spot them in small openings among thicker timber, that'll help you get 'em.
At Tioga Ranch, the red deer hunting season runs between the middle of August through November. If you're wondering what the most popular time of the year is to get red deer, it's between the middle of September and the middle of October– prime time! You don't have to hunt alone; Tioga Ranch provides guided hunts to help you bag your stag.
Planning a Red Stag Deer Hunting Trip
When planning your red stag deer hunt, here are some things to consider…
Timing is everything. Certain times of the year are best for hunting them. During "the rut," aka mating season, is prime time– Sept./Oct.
Consider your own health and the pace you can handle. Do you want to hunt them in a mountainous area or a relatively flat place? What kind of lodging do you require– are you a tent and backpack kind of person or do you want a hotel with AC?
What about your guide? You want to have a trustworthy guide who knows the terrain, can judge game behavior, and will help you complete the hunt safely; Tioga Boar Hunting is renowned for their expert guides.
It's important to sight your weapon(s) at the ranch before your hunt starts. Try out your guns/bows before the hunt commences so you know they're shooting well for you.
As for hunting gear, you'll want to wear broken-in hunting boots with good support for your feet and ankles. Bring binoculars. And, of course, stuff like sunscreen and bug spray can come in handy. Dress in layers in case it's really warm… or really cold.
Finally, when you find a stag you want to shoot, tell your guide ahead of time the max distance you feel comfortable shooting from… and look for the most comfortable rest you can find. If you get your trophy on the ground, you'll want to take some pics to show off your kill. Note: you can never have "too many" pictures, and that's for sure!