HUNTS:
Mouflon Ram Hunting
TIOGA Guided Mouflon Ram Hunts
If you're really looking for a challenge, look no further than our Mouflon ram hunts. Mouflon rams are known to be very intelligent and quick on their feet and will provide you with an opportunity to show what you're made of as a hunter. They're also known to keep their impressive horns all year long, which will provide you with the perfect trophy at the end of one of our mouflon ram hunts if you're successful during your hunting trip.
When you visit Tioga Boar Hunting, you'll get the chance to take any number of exciting exotic game hunting trips. Whether you want to hunt for boars and buffaloes or Rocky Mountain rams and elk, you can do it during a guided hunt on our massive hunting preserve, which is one of the biggest hunting preserves on the entire East Coast.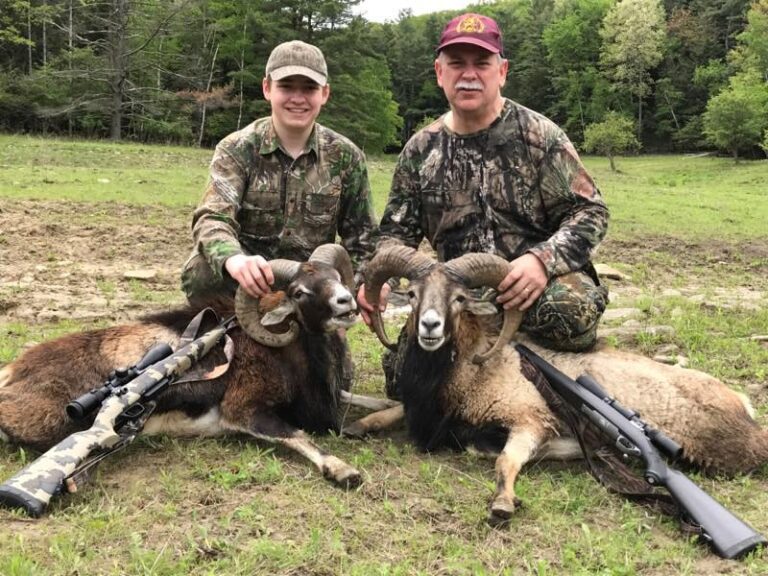 Interesting Characteristics of Mouflon Rams
Over the years, researchers have suggested that mouflon rams might be closely related to the domesticated sheep living in the U.S. today. They seem to have originated on the islands of Corsica, Cyprus, and Sardinia before eventually making their way to Europe and other parts of the world, including the U.S. Most mouflon rams weigh somewhere between 100 and 200 pounds, and their horns are usually anywhere from 23 to 33 inches long. They also have beautiful coats that come in a wide range of colors and set them apart from other types of rams. What's more, they tend to be a bit aggressive with one another at times, but they're also social creatures that are often spotted in groups.
Book an Exotic, Mouflon Ram Hunting Trip With Tioga Ranch Today!
It's not every day that you get the chance to go on exotic game hunting trips for mouflon rams. Nevertheless, you'll have every opportunity to bag one when you book guided mouflon ram hunts through Tioga Boar Hunting. Our guides can teach you more about mouflon rams and put you in the right position to take one down when you schedule a hunting trip on our hunting preserve.
Call Tioga Boar Hunting at 570-835-5341 to discover more about our mouflon ram hunts. We can talk to you about the best times to hunt for mouflon rams and help you make a reservation for you and any other hunters you want to bring along for your exotic game hunting trip.