TIOGA Guided Whitetail Deer Hunts
From the end of August until Thanksgiving in November, Tioga Boar Hunting organizes guided Whitetail deer hunts in our beautiful part of Pennsylvania. Most of our hunts take one or two days– and all are fully guided. If you're looking for a trophy Whitetail in velvet, you'll want to schedule your hunt starting in late August. Tioga hunts can involve archery (bring your bow) or firearms, depending on your personal preference.
Did you know that Pennsylvania is in the Top 5 for states with the most deer killed by sportsmen each year? Also, thanks to antler restrictions put in place back in 2002, Pennsylvania has a good share of older, bigger-racked bucks in its forests, making it a destination for Whitetail hunters.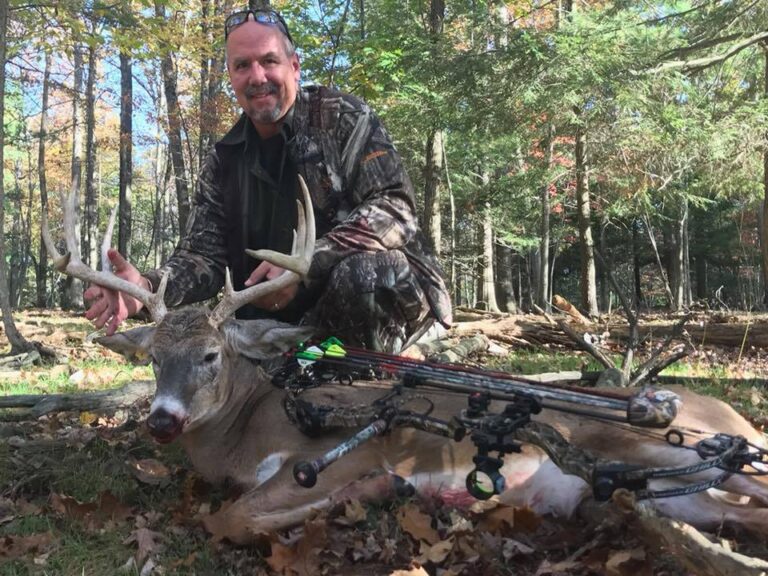 Why You Should Consider a Guided Whitetail Hunt at Tioga Ranch
Why hunt Whitetails? In all of nature you won't find a more majestic, swift or graceful animal. They're North America's most common large land mammals, known for their muscular bodies– yet timid personalities. You can try and get 'em, but they have acute hearing and a keen sense of smell, so they can be challenging to kill, especially if they know you're around and run away before you get your shot into their heart. That challenge is what makes getting a whitetail feel so incredibly gratifying.
The thrill of the hunt cannot be underestimated. The ultimate satisfaction a hunter can experience is knowing he or she successfully shot and killed the animal they intended to get.
Isn't it time you got out of the house or office, took some time off from work, and reconnected with nature? Hunting is good outdoor exercise and many hunters consider it a stress-reliever. Meanwhile, hunters like the challenge of the hunt, as well as the camaraderie and sense of accomplishment. Best of all, if you get a Whitetail, imagine all that venison you and your friends and family could eat– protein-rich meat. Oh, and best of all, Whitetail hunting is fun. It's exciting. We could all use some more fun and excitement in our lives, right?
We Offer Affordable Prices for Guided Whitetail Hunts!
Tioga offers affordable fully-guided Whitetail hunts– For Trophy Whitetails. The size of the Whitetails rack determines pricing as well as if its a typical or a non typical; our guides will tell you the size of the deer before you pull the trigger so you'll know exactly what you'd pay for. If you want a trophy deer in its prime, complete with huge antlers, then you'd want to sign up for the platinum or diamond option.  And please note, all Whitetail Buck hunts include 1 night lodging, meals, guide, field dressing, skinning, butchering, and vacuum sealing. See below for more details.