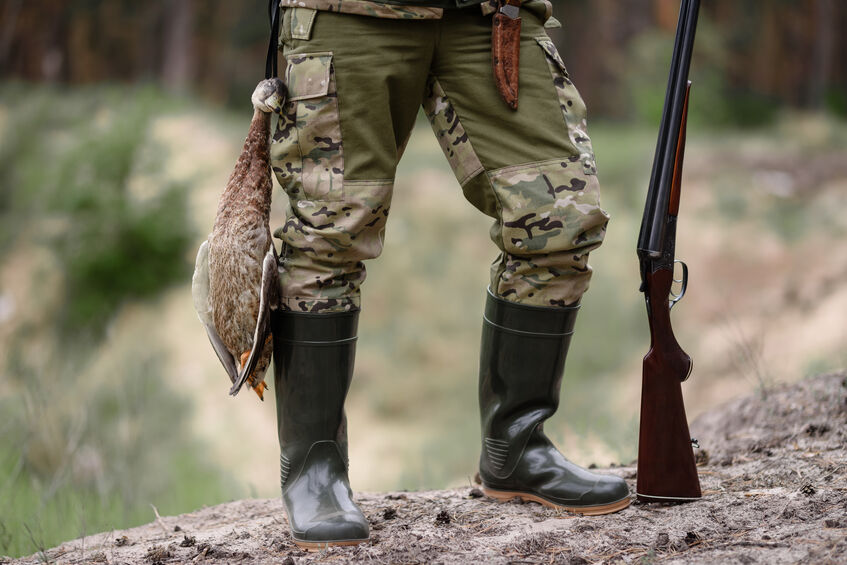 Could you hunt in flip flops? Realistically, that would be a bad idea. You could do it, but it wouldn't be smart. Most hunters wear hunting boots on their feet when they're out on the land, hunting for the animals they want to shoot and kill.
Hunting Boots Should Be Sturdy Yet Comfortable
You need good, sturdy, quality, comfortable boots when you hunt. You don't want sore feet. You don't want boots that are too tight or too loose. You also don't want to have really good looking boots that don't keep your feet warm when it's cold outside– and conversely, you don't want boots that make your feet too hot (and sweaty) when it's already warm outdoors.
Hunting Boots Are Dependent on the Climate of the Area You're Hunting In
So, if you're like most hunters, you are in search of "the perfect boots." Whether they're field boots, rubber boots or snake boots, you'll probably benefit from asking a boot salesman which pair to buy. He or she can ask you certain questions, like what time of the year and where you like to hunt. You might need insulated, waterproof boots for hunting during colder winter months. Or, if you're doing early-season archery hunts, you might want a lightweight, scent-free pair of boots.
Insulation is Key for Hunting Boots
One of the main things to consider when shopping for great hunting boots is the insulation factor. The colder the weather, the more insulation you'll need if you plan to stay in one spot for an extended period of time (not moving around). Look for boots that have 1000 grams and above of insulation if you plan to do still-hunting in a stand or blind in harsh, cold weather. Otherwise, 400 to 800 grams is usually ideal for "average" fall hunting conditions, and 200 grams works well when it's pretty warm outside.
Hunting Boots Need a Strong Outside Traction
Other things to notice when checking out boots is their outsole traction. Do they have molded rubber lugs and/or cleats to help grip slippery surfaces? Also, how's the fit when you also have on heavy, thicker socks? You might need to buy "one size up" to accommodate your socks.
Once you've found great hunting boots, it's time to hunt. Tioga Boar Hunting offers great guided hunts in Tioga, PA. Please call 570-835-5341 for more information.