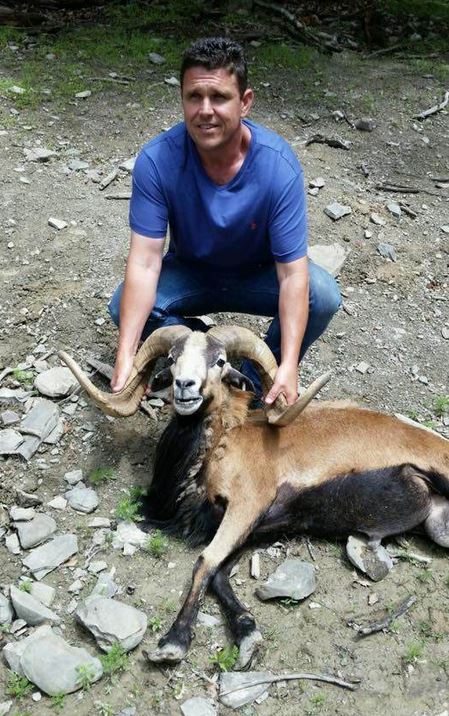 Corsican ram hunts are one of our popular packages at Tioga Ranch. Some hunters may not be familiar with these game animals, so this is an overview of Corsican rams.
Corsicans were originally introduced in Texas where they were the result of cross-breeding between Mouflon Sheep and a number of other breeds.
An Overview of Corsican Rams
Corsican rams eat primarily grass and forbs, but also eat leaves that are close to the ground or fallen. These rams typically drink water every day, but are able to go two or three days without water during cooler weather.
The breeding season for Corsicans is late summer or early fall, with a five-month gestation. Offspring are usually delivered during the winter.
Coloring on Corsican rams varies, and includes brown, tan, and a reddish color. They are adorned with an attractive black mane that is on the front of their necks. Most rams have a tight curl, but some do flare. Our rams have at least a ¾ curl before we start hunting them, but most have at least a full curl. Mature Corsican rams may weigh up to 125 pounds.
Hunting Corsican rams is sure to be a great hunt. These animals tend to group together and flee as a herd when spooked so hunting them requires patience to successfully stalk and get a shot.
We have been offering Corsican ram hunts here at Tioga Ranch for more than 40 years. Corsican rams continue to be popular game, and are now the most-hunted exotic animal in the country.
At Tioga Ranch, we offer affordable, guided Corsican ram hunts that are available seven days per week, year round. Most hunts last one or two days, and on-site lodging is available. You also have your choice of hunting with your preferred weapon, whether bow, pistol, rifle, shotgun, or muzzleloader. Contact us today at 570-835-5341 to learn more about our hunts or to make your reservation.